[E-book] "Entrance to Block Chain & Ethereum" Published
"We inform you that the co-authored e-book with NEC Corporation Financial System Development Headquarters Financial Digital Innovation Technology Development Office has been released.
■ [E-book] Entrance to Block Chain & Ethereum
As of January 2017, Ethereum has released the version ""Homestead"", and its degree of recognition has gradually improved in Japan, and the number of verification achievements also has been increasing. Under these circumstances, this book is an outlined, easy-to-understand illustration of the movements of the Ethereum, aimed at being an introductory book to understand Ethereum.
Author: NEC Corporation Financial System Development Division Financial Digital Innovation Technology Development Office,
Consensus Base Inc.
Release date: May 12, 2017
Publisher: NEC Corporation
Language: Japanese
Compatible terminals: E-book reader, Android, iPhone, iPad, desktop application
You can purchase it here
◆ Rakuten Books http://books.rakuten.co.jp/rk/ed240254de3033d3babaaf1ad89580af/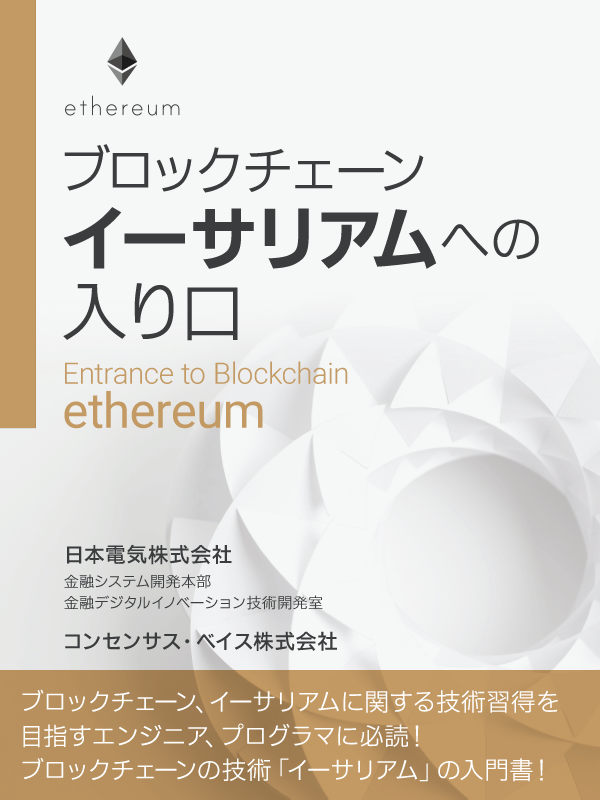 "